Live online Life Drawing Workshops
Contact me or Book online HERE

Online live life workshops
Tuesday 10.30am and 7.30pm
Friday 10.30am and 7.30pm
If you missed the trials, if you miss drawing a great model, and you miss chatting with a group - email me (here)
If you are anywhere in the world and you want to draw and chat - join us
robin rutherford
Drop-in rate is £12 or
£6 for the unexpectedly unwaged

My models, many of whom work in theatre and the creative arts, suddenly find themselves unwaged and confined to the house, this initiative ensures a source of income and also a valuable social contact for our group in these troubled days

If you can download an app to your computer, ipad, tablet or smart phone -

then you are ready to go! Any problems please ask.
robin rutherford
Full Instructions
robinrutherford
Life drawing workshop lasting around 2 hours - see below for details on how to sign up

Sessions:
Tuesday from 10.30am and 7.30pm
Friday from 10.30am and 7.30pm

Drop-in rate is £12 or £6 for the unexpectedly unwaged - you may pay by Bank Transfer or PayPal if you prefer I will supply my details - pay at each session or buy a block and turn up when it suits

FIRST TIMERS - HOW TO INSTALL ZOOM

I am presenting these sessions using the ZOOM app, which is very simple to use, Zoom is widely used for business conference meetings.

Click on the link to install https://zoom.us/download

or search Zoom Client For Meetings from the AppStore.
When Zoom is installed on your device email me and I will send the Invite Code Link
robinrutherford

Robin Rutherford Life Drawing Group Pledge

I do solemnly swear I will not share any of the online images contained in the presentation to third parties, or to post them on Social Media.

By joining this group you accept these terms. All participants should be over 16 years of age, as the sessions contains some nudity. I always use a top professional artist's model
robinrutherford
Reviews
That was a great session this morning I really enjoyed it. Very well put together and easy to join in. The model was brilliant - TS
Thank you very much for setting up this morning's drawing session. I enjoyed it hugely and forgot all about C for a whole hour or so. I'm looking forward to signing up for future sessions... in anticipation, i've already bought kitkats! - CP
Thanks so much for another super session. I look forward to more - JS
Thank you very much for the session today - I think this format will be really good for me - I'm hoping that at least without the self-consciousness of having my drawing observed I may be able to relax more
Thanks again, brilliant idea. - JL
I thought the session on Friday was good and thank you for organising. Looks like video conferencing is going to be the way forward for the next few weeks/months. I also liked the way we could see and hear fellow participants though I did miss the kitkats. - JG
Thanks for setting up last night. I was surprised how easy it was to connect . Zoom seemed to work well as I haven't used it before - Drawing from the screen was clear, and quite a different technique for observation. The poses were really good . It takes a bit of getting used to but it was fun. - CM
Really enjoyed the life drawing Robin - thank you for organising it. I think it worked very well. I'll look forward to Monday - CY
Robin thanks for today. Really enjoyed. Can we put our drawings on social media? - TG
Just to say thank you once again, this was such a fun and engaging experience - it's like all the stress and anxiety melts away as you focus on nothing but drawing.
Thanks also for your tips, for a beginner like me they are really helpful.
Please please do more of these virtual sessions, and do remember us folks who work office hours, as an evening session like this is just brilliant - especially if you are stuck indoors. - SC
Daytime Tuesday 10.30am - 1pm -
Cass Art
Drop-in workshop pay on the day

£15 per session or 33% Student discount
Evening Thursday 6.30pm - 8.30pm -
Cass Art

Drop-in workshop pay on the day

£12 per session or 33% Student discount
Full day 10.30am - 4.30pm
Once a month - see below

£35 per session or 33% Student discount
103 Clarence St., Kingston KT1 1NW
Pay on the day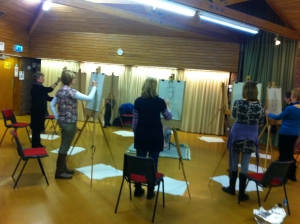 Monthly Full Day Life Drawing

£35 session


First Thursday in the month


10.30am to 4.30pm

All day life drawing session. Easels, drawing boards, paper and materials as well as tea, coffee and KitKats supplied free of charge.


You are welcome to bring your own chosen media (both wet or dry)

The full day workshop gives you the chance to work from a long pose with wet or dry media.


Discount for full time students




Day Workshops 2020





-

2nd April CANCELLED


-

7th May

-

4th June

-

2nd July

-

6th August

-

3rd September

-

1st October

-

5th November

-

3rd December

A fun, friendly workshop, suitable for every level.

I aim to create a relaxed environment, with positive feedback, to liberate artistic growth, allowing unique styles to flourish in a stimulating atmosphere


Short and long poses with male/female models, cool music, easels, drawing boards, paper, materials, KitKats, coffee, tea and sympathy all at no extra cost

You are welcome to bring your own chosen media (both wet or dry)


The studio workshop is based on the traditional French Atelier system, giving artists open access to a studio in which they are able to work from a life model


Online gift booking available click here

Workshops for corporate business, care homes and small groups

Latest reviews

The rock 'n' roll lifestyle at a Kingston care home that shows it's never too late to party

The residents love drinking sherry for lunch and bustin' moves to Lady Gaga

Care Home Professional Magazine

Tomorrows Care Magazine

Carer UK magazine

Find us here:

Cass Art, 103 Clarence Street,

NOTE: Over 16s only

No step free access

to receive my newsletter

Graphic Novel

Cass Art, Kingston

Date TBA please enquire



Learn the basics, explore narrative and storytelling through a graphic format, working from both observation and imagination, with contemporary examples used as a starting point to explore the huge potential of the graphic medium.

No artistic skill necessary, all materials supplied, suitable for all ages 15 plus - all you need is a photo (printed or on phone) or an item or idea on which to base your story.

Suits age 15 plus - all materials supplied

Note: no step free access

Suitable for all levels - a relaxed, fun experience ideal for boosting creative thought processing, team creativity and development.

Workshops, corporate events, entertainments and parties - a fast, fun, energetic atmosphere remains relaxed with creative exercises putting everyone at ease.

Corporate life drawing event London

Birthday parties, group reunions, private art sessions, in-house corporate team building

Life drawing is one of the best ways to keep the brain sharp.

Expand your perceptions, widen your perspective, enhance observational skills and experience a terrific sense of achievement.

Robin is a professional artist and holds adult education teaching certificates.

Oliver Bonas


Design Team day workshop


The high street store sent along their best designers for an all day workshop to work up designs for a new range of accessories.

Take a look at the first tech accessory


Pre-Uni Portfolio Development of Figurative Art

The BBC programme How to Stay Young listed life drawing as one of the best ways of keeping a youthful brain.

Contact for more details

Art and Design, Music and Drama specialists at our UK exam board OCR have selected the five main reasons to study creative subjects:

The arts make self starters and develop emotional intelligence
All require the student to set their own agenda from within themselves, rather than follow set topics as in other subjects. They have to make independent decisions all the way, and be self-critical. They also need to be brave in exposing their creations, and accept criticism. Working in teams makes students into good communicators.


The arts are stretching
Music, art and drama require long hours of hard work and dedication. Students have to pay great attention to detail, to perfect and redo. Putting on a play, exhibition or concert takes strong organisational skills.


Arts students are highly sought-after by employers
Many employers now actively seek those who have studied the arts. Steve Jobs, founder of Apple, was fond of saying his success was due to his hiring artists and musicians fascinated by technology rather than computer geeks. Top talent management agency, The Curve Group specialising in financial and business services, concurs: "Employees with an arts degree have developed more quickly in their roles from the start. They have discipline, confidence and can accept criticism."


Arts 'reach the parts other subjects can't reach'
The arts develop the broader dimensions of the human being – mind, body and soul. The arts can express the inexpressible and make sense of things that otherwise do not seem to.



Arts 'reaches the students other subjects can't reach'
Teachers find arts subjects particularly beneficial for two groups: those who struggle with traditional subjects and those who are high achieving. Less academic students can become defeatist if they feel they can't achieve: drama, music or art can help them to blossom.